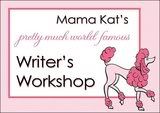 This week's writing prompt from Mama Kat's Writers Workshop is to write about a time a teacher disappointed me. I will be writing about a college professor that nearly squashed my dream of being a writer, and fortunately I found that zest for writing later in my professional career.
______________________________________________________________
"Writing is not your thing..." A college professor told me in my junior year. Really? REALLY? "I just don't like your style," she continued.
I've loved to write since I could string sentences together. For what it's worth, I won a little award in the second grade for a two lined essay I wrote about my brother. Or being free. Or my pet. Or something like that. It hung in the cafeteria for parents night and I received a certificate for it.
As I grew, English classes were my favorite. I loved to creative write and I consistently received A's. I kept journals and enjoyed writing letters.
WRITING WAS MY THING!
So when I transfered to a four year university, immediately passed the writing test that 60% of those who take don't pass to move on to the next level of English to complete my requirements, I enrolled myself in this course. I don't remember the name. I just remember the teacher. A firey red head who clearly did not care for me.
Perhaps it was because I didn't raise my hand and speak wildly, using terms like utopia and ethnography. I read the assigned reading, and wrote to what I believed in. But she "didn't like my style." And she told me this in front of the whole class. I sought help. Worked with a classmate to bring my essays to her taste. But no go.
And I cried. I often believed writing would be a career. But she, in a matter of two sentences, squashed that dream and I looked for different majors, switching from journalism to radio and television, which I ultimately received my degree in.
But as my professional career evolved, I became a professional writer. I've had multiple stories published in print and I write marketing copy.
I'm not saying I am a fantabulous writer. My grammar can be terrible. I don't use punctuation properly. And I don't use the most interesting words, like ethnography and utopia. I start too many sentences with "and," "but" and "so". But clearly it isn't all that bad. I'm (occasionally) paid to do it.
More importantly, writing is my thing. It makes me tick. I write this blog at will. I'm not paid to do it. I simply do it out of joy. It's my art and I certainly don't expect everyone to like it.
This teacher was wrong on so many levels. But the big one was suggesting that writing wasn't my thing based on that she didn't like my style. Some may like Picasso, and hate Monet. That is a matter of taste, but it doesn't mean that art wasn't there thing.